Of all the pests that live rent-free in Chicago homes, bed bugs are some of the most unwanted as they rely on you and not what is in your kitchen and garbage cans for their food supply. Not only are they parasitic bugs that feast on your blood, but while you are sleeping, they also inflict painful bites that can turn into rashes and secondary infections. This can cause sleepless nights, which can lead to chronic sleep deprivation and exhaustion. One piece of good news, however, is that they are not known to transmit dangerous diseases like mosquitoes and fleas might. Bed bugs are not a new issue in homes, as they have been around for thousands of years. They most likely originated from caves in the ancient world, where they lived alongside bats. Like many pests, they made their way to the American continent through European ships.
While bed bugs serve no purpose today aside from serving as a food source to some predators like spiders, bed bugs were used as medicine to lower fevers and treat other health problems. Of course, we now know that there are more pleasant and effective ways to cure these ailments, and no one wants these invasive pests in their home anymore. If you think you might have bed bugs in your home, it is time to learn how you can tell if you have a bed bug bite or if another pest is biting you, understand what it's like to have a bed bug infestation in your home, and find out how you can prevent bed bugs from coming in. If you are struggling with an infestation, Aerex Pest Control provides pest control in Chicago so you can sleep soundly again without fear of bed bugs.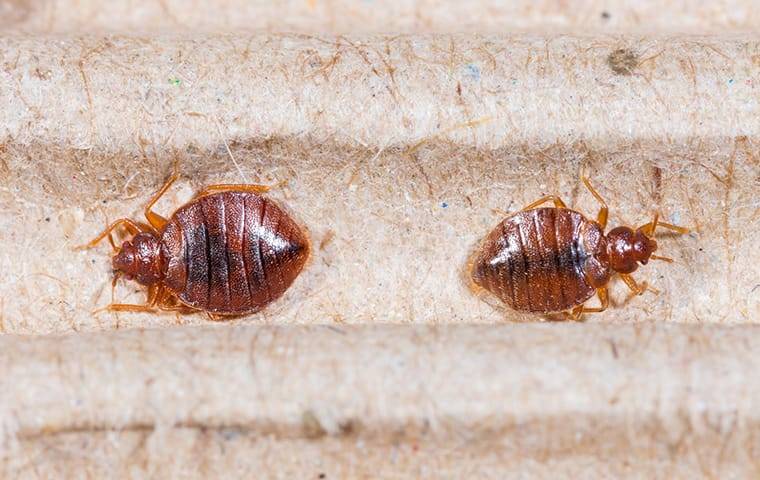 How Can I Tell If It's A Bed Bug Bite?
It can be tricky to tell if you have a bed bug bite or if other types of bugs that look like them are wreaking havoc in your home. You can suspect that you are suffering from bed bug bites if you notice the following symptoms:
Small bumps: Simple bed bug bites are usually small and red and arranged in a line or zigzag pattern. They will sometimes have a darker center. You will often see them in exposed areas of the skin, like ankles and arms. If you get bitten by bed bugs, clean the area thoroughly with soap and water and reach out to a medical professional if the bites do not get better quickly.
Worsening of symptoms: Bed bug bites can sometimes get worse. When they do, the surrounding area might get swollen, or they might turn into blisters and hives.
Dried blood: Other biting insects might not leave traces of dried blood behind, but bed bugs often will. In addition to the dried blood on your skin, you will usually find stains on the bedding. Some of them might not be dried blood but are, in fact, bed bug feces.
Other signs of a bed bug infestation: Bites are not the only clues you are dealing with these biting insects. You might also see bed bug exoskeletons after they molt, bed bug eggs and nymphs, and more.
When bed bugs invade, they can cause more than painful bites. Read on to discover what it is like to have a bed bug infestation in your home.
What It's Like To Have A Bed Bug Infestation In Your Home
Having a bed bug infestation in your home is not fun at all. Bed bugs can hide in obvious areas like bedding and mattresses, but they can also squeeze behind electrical outlets, labels, and more. These tiny invaders can hide very effectively away from people, and you might not even realize you have a bed bug problem until you notice an increasing number of bites. You will probably start seeing blood stains on bed sheets from rolling over them once they are full of blood and are softer and easier to crush, something that is nearly impossible to do when they haven't fed yet. You might also see rust stains, which are bed bug feces. Rusty, red, or black, they can sometimes look like spots from a marker. As the infestation grows, you will also notice bed bug nymphs, which are small and translucent, and bed bug eggs, which are pinhead-sized and white. At this point, the only thing to do is look for reputable bed bug control companies near you to start getting rid of these invaders. You can immediately throw all bedding into the washing machine and wash them thoroughly before drying them at high temperatures. It takes temperatures of at least 118 degrees and more than an hour of exposure to kill bed bugs. Of course, this is not something you can do yourself with mattresses and couches, but a pro can recommend options to exterminate bed bugs from every corner of your home. You will also need to vacuum your rugs and carpets often, and remember that bed bugs can hide in clothes, curtains, and more. Getting rid of bed bugs can be overwhelming, and having recurring infestations after successful treatments can be disheartening. For this reason, we always recommend natural bed bug control techniques for your home that you can use daily to ensure that it remains free of these pests year-round. Read on for some of the most effective ways to prevent bed bugs from coming into your house.
How Can I Prevent Bed Bugs From Coming Into My House?
There are many effective ways to prevent bed bugs from coming into your home, including the following ones:
Don't bring used furniture into your house: Unless you know that the used furniture you're considering buying comes from a pest-free home, it is best if you decide against bringing it in. This is crucial to remember when you are looking for couches and mattresses.
Make sure you are not staying in an infested hotel: A common way for bed bugs to make their way into your home is to get into suitcases during a hotel stay. It is always a good idea to inspect bedding for bed bugs and clean all clothes thoroughly upon your return with hot water and dry them at high temperatures to exterminate these tiny pests.
Wash bedding often: Bed bugs are attracted to dirty laundry, bed sheets, and other items that people frequently use. We recommend that you wash your sheets and pillow covers weekly and dry them at high temperatures, especially if you are at risk of an infestation.
Keep your home clean and decluttered: While anyone can get bed bugs, it is easier for them to thrive in cluttered and dirty environments. Vacuum your floors often, disinfect surfaces, and remember to wash your curtains occasionally.
Prevention is only part of the battle against bed bugs. You also want to get rid of them quickly if they manage to come inside your home.
What's The Fastest Way To Get Rid Of Bed Bugs?
Going to bed means relaxing and recharging after a long day, not serving as a food source for little bugs that can cause painful bites, hives, and more. The best way to get rid of bed bugs is to work with a local pest control company, as treatments require specific tools that can be costly to get on your own. On top of it, many bed bugs have evolved to resist products that used to be effective not long ago. At Aerex Pest Control, we have been providing bed bug control in Chicago that is effective and safe. Our friendly service technicians are available to answer all your questions, provide an individualized free quote, and help you schedule an initial visit. Contact us today for the quality of care you can expect from a family-owned local company. The Chicago area has seen an increase in bed bug problems, and these little pests can reproduce quickly. After a thorough inspection of your home, we will explain how bed bugs likely got in and what you can do about it. We can also help determine if you are dealing with another pest infestation that could have contributed to your current issues.
Bed bugs can be a problem in homes and businesses, and no one is safe from an infestation. If you have noticed bumps and rashes on your skin, especially in the morning, and you suspect you might be dealing with bed bugs, give us a call. We can help you exterminate them even if the infestation has been going on for a while. Bed bugs can be anything from embarrassing to the cause of health problems, including chronic sleep deprivation. It is important to remember that having bed bugs is not your fault and that it takes nothing more than a hotel stay to end up with these parasitic bugs in your home. All you can do is start treatments today, and you will enjoy a pest-free home before you know it, thanks to local pest control for bed bugs you can trust.