If you are at the end of your rope with roaches, it isn't surprising. They are robust, resilient, and resourceful pests. How do you combat the three Rs? You need to know your enemy. Before you decide to buy more cockroach control products and try something new, you'll want to read this short article. Chicago roaches have grown in strength over the last century. We'll tell you why, and what you can do about them. Here is a quick overview of cockroaches and cockroach pest control in Chicago.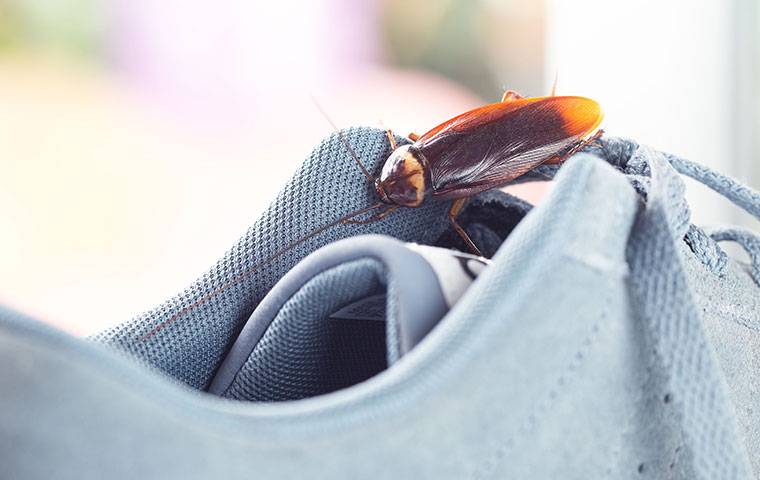 What Kind Of Roaches Are There In Chicago?
Chicago is home to many cockroach species, but only a few commonly get into homes. The three most common roach pests in Chicago are German, American, and oriental cockroaches. Let's look at them in terms of how hard they are to control, and how you can use their weakness against them.
The easiest cockroaches to keep out of your home are oriental roaches. But don't get too excited. They're also the dirtiest roaches. If you find these black cockroaches climbing around in your pantry, it is cause for serious concern. Oriental cockroaches have a strong association with decaying organic sludge and unsanitary environments. They don't do well inside homes because they prefer to lay their oothecae (egg pouches) in the gooey organic material in the bottom of dumpsters and trash bins, or in the sewer system. If you keep your home clean, guard your trash, and monitor pet waste, you can significantly deter these pests.
The second easiest cockroach to control is the American cockroach. Often called water bugs or Palmetto bugs, these insects prefer areas of high humidity or damp conditions. They live near water sources and hide under Palmetto fronds. Of course, we don't have any Palmetto fronds in Chicago, but American roaches are just as happy to hide under leaf litter. When they get into homes, they often stay. But you might have some impact on them if you buy a dehumidifier and address every plumbing issue in your home. If these roaches can't find a water source or appropriate level of humidity, they may move back outdoors. These tips help with oriental cockroaches as well.
The roaches that present the most problems are German cockroaches. Why? It is because they have learned to adapt to indoor living—in fact, they love living with people so much that entomologists can't find a population of wild German roaches anywhere in the world. They always live in close association with human settlements. While not always indoors, they're always close to people. Why is it important to understand this fact? It is because German cockroaches will resist your efforts to drive them out, and they have unique resistances the other roaches mentioned here don't have.
These are the cockroaches you're likely dealing with if you've found signs of a cockroach infestation. If you've tried control products, consider trying sanitation, humidity control, moisture control, and pest-proofing to keep them out. Or you could contact Aerex Pest Control for effective cockroach pest control in Chicago, and leave those roaches to us.
Why Roaches Are So Dangerous To Your Health
When considering whether or not to roll your sleeves up and apply the tips we offered, or when considering whether or not to shell out money to get a cockroach treatment, it helps to fully understand why it is critical to fully control these insects.
Cockroaches spread 33 kinds of bacteria that relate to human illness.
Cockroaches spread more than seven human pathogens.
Cockroaches are known to carry at least six kinds of parasitic worms.
Cockroach parts and waste can be a severe trigger for asthma.
Cockroaches don't prefer to bite, but sometimes they bite by accident.
Cockroaches may cause rashes when they crawl across the skin.
In unsanitary environments, the risk of illness is greater. Roaches expose themselves to human and pest waste, organic material in trash and drains, grime on the sides of ovens, dirty mops, and more.
Now that you know a bit about Chicago roaches, some tips to manage them, and why management is important, let's get into the meat of this article. Let's turn our attention to why residents struggle with cockroaches.
The Issues With Trying To Get Rid Of Roaches On Your Own
There is much we could share on this topic. The cockroaches in your home are far more adaptable than you can imagine. As we pointed out, they are robust, resilient, and resourceful creatures.
Robust Roaches: The cockroach is a strong insect. It can live for 45 minutes underwater. It can live a week without its head. It can survive by eating things humans can't possibly eat. While not nearly as tolerant of radiation as many other insects, a cockroach is surprisingly tolerant.
Resilient Roaches: When a cockroach is exposed to something, it can recover quickly. For example, a cockroach that passes over a treated surface can survive limited exposure. If it does, it can shed its skin and create a new skin that will provide more protection against the material. Many cockroaches are born with resistance to common control materials.
Resourceful Roaches: A cockroach can get into places that would definitely surprise you. They scale walls, run across ceilings, and compact their bodies to squeeze through gaps more than half their height. A roach can run five feet in one second, which allows it to get around fast. Baby roaches are tiny. Newly hatched German cockroach nymphs are so tiny they can fit through the holes of an electrical outlet. You can have hundreds of cockroaches inside your walls and between your floors and subflooring. These hidden locations are hard to treat.
When you attempt to control cockroaches, the three Rs can allow roaches to escape your treatments. If you apply a product that is too weak, a robust roach will survive to infest another day. If you misapply treatments, you may make resilient roaches stronger. They may adapt to the products you apply to surfaces, which is why you can spray a roach and watch it walk away with indifference. If you misapply bait, resourceful cockroaches will learn that the baits you've applied are not safe to eat. Along with this, they can use their resilience to genetically adapt their taste receptors to share their bait aversion with their offspring.
Are you starting to see the picture? Cockroaches are hard to control. And we've only shown you a small portion of the picture. Cockroach control fails for many other reasons besides what we've shared. Baits can fail because they become inert. A treatment program can fail because roaches escape to another area. A roach infestation can persist because the exterior isn't properly sealed and treated. It is always best to have a service technician deal with a cockroach problem. Let's take a look at why this is the case.
Call The Pros To Completely Get Rid Of Roaches
When you contact Aerex Pest Control, you'll get the best solution to address the cockroaches in your Chicago home. Your service technician will perform an inspection, locate roaches, track the routes the cockroaches are following, consider entry points, and evaluate other conducive conditions. Using the findings of this inspection, we'll tell you what is needed to get rid of cockroaches in your home. The treatment solution will require several products and a systematic strategy of application. We'll treat infested areas with a combination of products that are appropriate for the zones in which they are applied. We will use field-tested methods to prevent the cockroaches from evading the treatments and spreading to other locations. We work the problem indoors by evaluating the treatment, monitoring devices that track activity, and making corrections as needed. If the roaches aren't taking a certain bait or a certain material isn't achieving results, we apply other options. It is a scientific process that, when performed appropriately, ensures that no roaches remain in the structure.
Your service technician will also consider the entry points cockroaches are using to enter your home and apply pest-proofing to keep them out. If needed, a treatment is applied to the exterior of your home to add another layer of protection.
Once your infestation is corrected and roaches are no longer entering your home, you can maintain your barrier of protection by getting an ongoing pest control service plan for your home. We can return throughout the year and make sure your yard and exterior have what is needed to reduce pest populations, remove pest threats, and prevent pest entry.
We have over 70 years of experience, so you can trust the Aerex Pest Control team to provide you with the highest level of cockroach control. You can also expect friendly and dependable service from your service technician every time. If cockroaches do something expected, we bring out the big guns. We have leading American entomologist, Dr. George Rotramel, on staff. You are in good hands with the Aerex Pest Control service team! Reach out to us today to schedule service for your Chicago home or business. We're here to help you find the solutions to your pest control issues.