Reliable Pest Control Services In Arlington Heights, Illinois
The village of Arlington Heights, IL, is a vibrant and progressive community with strong roots. We offer the perfect combination of the old, and the new, providing the ideal balance for settling down. However, pests are also eager to settle down here; more specifically, they're eager to get into our homes and businesses. Infestations are a huge problem that no property owner wants to face, especially not alone. That's why we're here to face any pest infestation with you.
Aerex Pest Control is a family-owned and operated pest management company with over 70 years of experience in the pest control industry. We offer comprehensive residential, commercial, and industrial pest solutions for properties throughout the greater Chicago metro area, providing our customers with dependable services they can trust. Our team deals with a variety of common areas pests, some of which include ants, bed bugs, cockroaches, stinging insects, mosquitoes, rodents, box elder bugs, ticks, fleas, occasional invaders, and stink bugs. Reach out to us to request a free quote, and we'll get started right away.
Home Pest Control In Arlington Heights, IL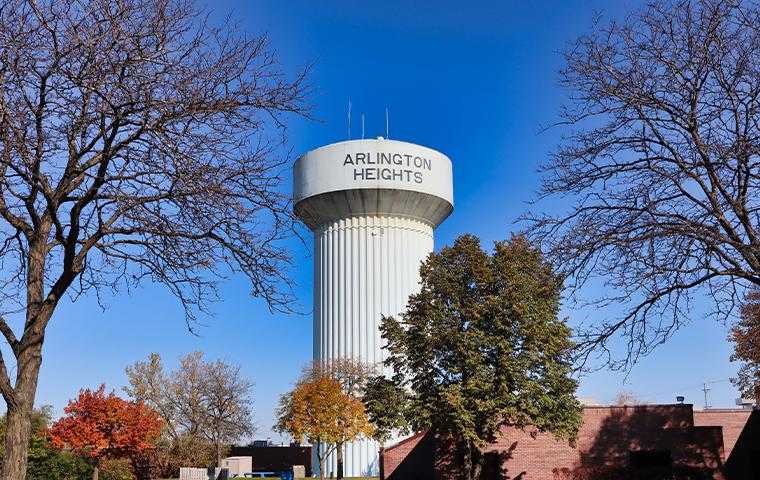 As a homeowner in Arlington Heights, you must consider your pest control needs. An infestation can seriously threaten your house and your family, which is why professional pest protection is the best way to go.
Here at Aerex Pest Control, we provide residential pest control services to over 7,000 homeowners. We provide year-round coverage from household infestations and guaranteed results that you can feel good about.
Our team of professional pest technicians is fully bonded and insured, using the safest, most effective pest control procedures to tackle your infestation at its core. We only use EPA-registered pesticides to treat your property, and our goal is to schedule minimal follow-ups because we believe in getting it done right the first time around.
Contact for an over-the-phone home estimate, and we'll get the ball rolling.
Commercial Pest Control In Arlington Heights, IL
Our team offers complete commercial pest control solutions to a broad range of facilities, servicing over 1,250 businesses in the area. We have a professional entomologist on staff who helps us develop the most effective treatment plans depending on the specific property we're dealing with and the nature of the individual infestation.
Our team is proud to be a part of a variety of highly esteemed organizations:
Illinois Pest Control Associations
National Pest Control Association
Better Business Bureau
Environmental Health Association
Greater Chicagoland Pest Management Society
No matter what kind of pest problem you're facing, we are committed to bringing you the lasting results you deserve. We provide commercial plans for general pest control, rodent control, and fly control. Our monthly or bi-monthly follow-up services give you continued protection throughout the year. Call us today to learn more.
Three Reasons DIY Rodent Control Won't Work For Arlington Heights, IL Homeowners
There are a variety of DIY rodent control methods floating around the market, and the internet can suggest a lot of different ideas, but when it comes to effective rodent control, DIY just won't cut it. These are temporary fixes that fail to give you lasting results.
Here are three reasons why DIY rodent control isn't a good choice for your home:
1. Rodents access your structure through various entry points, so even if you successfully block off one of them, many others are hard to access and out of sight.

2. Rodents are nocturnal, so you'll likely be asleep when they're most active, making it even more difficult to detect problem areas.

3. Temporary fixes cost you more in the long run. Instead of paying for one effective treatment, you end up repeatedly spending money on quick fixes that don't work and don't last.
DIY rodent solutions are a real gamble, and we don't recommend them for your Arlington home. The professionals at Aerex Pest Control have the expertise to thoroughly exterminate the problem and effectively keep it from coming back. Contact us today to discuss your rodent control and prevention needs.
Fleas & Ticks: What Arlington Heights Residents Need To Know
Fleas and ticks are abundant pests here in Arlington Heights, and they can easily find their way onto your property. That puts us and our loved ones at risk. Both of these parasites are capable of transmitting different vector-borne illnesses into their hosts. Fleas and ticks are linked to a variety of illnesses and bacterial diseases, some of which include Lyme disease, malaria, ehrlichiosis, encephalitis, and many others.
That's why it's crucial to do everything you can to keep fleas and ticks off your property. They are vector pests that threaten our loved ones and our pets, exposing them to adverse health reactions and serious conditions. While you can take some preventative measures to reduce your exposure to fleas and ticks, the best thing you can do is to secure ongoing services from the pest professionals. Contact us today, and we'll set up your thorough inspection as soon as possible.