Quality Pest Management For Aurora, IL Properties
Located just 36 miles west of Chicago, the city of Aurora, IL, is an exciting place with the second largest population in the state. Known locally as the "City of Lights", there's no denying the bright allure of Aurora. However, where there are large populations of people, there are also large populations of pests. These dangerous intruders pose a year-round threat to local home and business owners, and that's why we offer professional pest control solutions you can trust.
Aerex Pest Control has been servicing homes and businesses throughout DuPage, Kane, Kendall, and Will counties since 1948. With over 70 years of experience providing the Chicago metro area with quality pest control solutions, we're confident in our ability to bring you the lasting results you deserve. Whatever your pest control problems, we've got the pest control solutions! Reach out to Aerex Pest Control today to discuss your residential, commercial, or industrial pest control needs.
Home Pest Control In Aurora, IL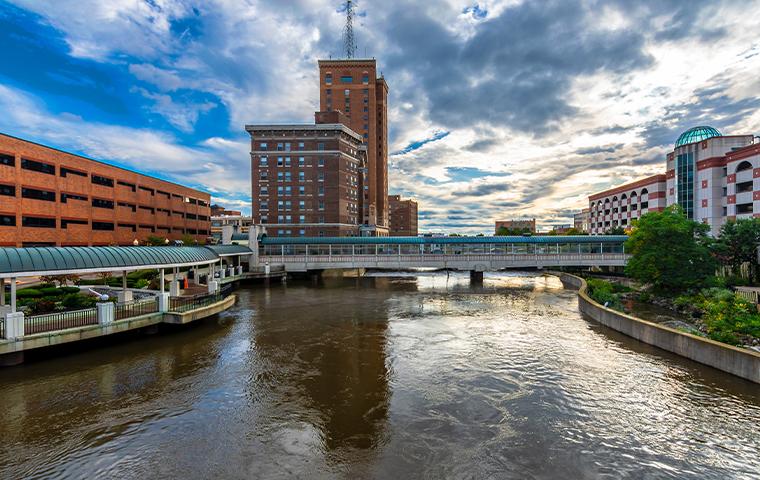 There's no denying the fact that Aurora is a great place to live. Unfortunately, pests are also eager to make themselves at home here. These intruders seek entry into our homes, searching for food, water, and shelter, which puts local homeowners at risk of experiencing an infestation.
Our residential pest solutions in Aurora provide you with full pest coverage and a variety of comprehensive treatments:
Inspection and treatment of home exterior for pest activity
Application of perimeter barrier treatment
Treatment of all possible entry points (doors, windows, etc.)
Monitoring rodent bait stations around the property
We're proud to service over 7,000 residences in the area, bringing families dependable pest protection all year long. Our expert technicians are fully licensed, bonded, and insured, and we only use EPA-registered pest control solutions. Call us today for an over-the-phone home estimate, and we'll get started right away.
Commercial Pest Control In Aurora, IL
Protecting your business from outside harm can be overwhelming, as there are so many dangers to consider. A commercial pest infestation is a nightmare that Aurora business owners should be prepared to face. Fortunately, the team at Aerex Pest Control is here to face it with you. Our team provides reliable commercial pest solutions to over 1,250 businesses in the area. Some of our commercial services include insect management inspections and treatments, bed bug services, flying insect management, pest identification, and rodent management.
From the first inspection to each follow-up treatment, our team is committed to your complete satisfaction. We specialize in pest control for property management and also service a variety of other commercial properties, such as retail shops, restaurants, bars, office buildings, health facilities, industrial manufacturing properties, warehouses, and storage facilities. The Aerex Guarantee service package not only addresses existing pest problems but utilizes preventative treatments to keep pests away in the future.
Here's The Four Most Effective Ways To Get Rid Of Bed Bugs In Your Aurora, IL Home
Here in Aurora, homeowners must be conscious of bed bug activity. A bed bug infestation is an absolute nightmare, and you don't want to deal with these intruders in your home. Bed bugs are nocturnal parasites that hide in remote areas of your house all day long, waiting until you're asleep to come out and feed on your blood.
In order to avoid these pests, here are four effective methods of prevention:
Eliminate clutter around the home because bed bugs love to hide in the cracks and crevices of your stuff.
Inspect all items for bed bugs before bringing them inside. Be careful with luggage and secondhand clothing and furniture in particular.
Put protective encasements on your mattresses and box springs. It keeps new bed bugs from entering and existing bed bugs from exiting.
Wash and dry all linens, bedding, and clothing on high heat to kill off any bed bugs.
While these tips can help, the most reliable and lasting source of bed bug control is from the pest pros. Here at Aerex Pest Control, our team offers thorough bed bug treatments that guarantee results. Contact us for a detailed estimate.
Aurora, IL Homeowner's Guide To Carpenter Ants
When carpenter ants get onto our properties, they are looking for sources of food and moisture. They're similar to termites in that they destroy wood and threaten the structure of your home. However, the difference is that carpenter ants don't eat the wood they infest. They only use wood to tunnel through and build their nests.
Carpenter ants prefer residing in damp areas with lots of condensation. The present moisture makes it easier for them to dig their tunnels, where they proceed to breed and grow their colonies. If there's an abundance of rotting or moisture-damaged wood around your Aurora house, it's important to address your carpenter ant control needs. Aerex Pest Control is here to help. We will detect and eliminate all carpenter ants and signs of activity, and we'll keep them out for good. Reach out today to learn more.