How To Keep Hornets And Wasps Away From Your Chicago, IL Lawn
August 27, 2021
Being able to have outdoor tented events for your business or gatherings for your friends and family at your home is one of the perks of having a sizable lawn in Chicago. However, you'll have to proceed with caution. Flying insects could bite or sting your invitees and damper the festivities. Hornets and wasps, for example, are rampant in the air.
Although hornets are often mentioned separately from wasps, the latter is a classification for all stinging insects. It's hard to win a battle against these bugs because they reside in natural settings. You have to do what you can because many have venom and might send people to the hospital. Find out how you can defeat hornets and wasps with assistance from Aerex Pest Control.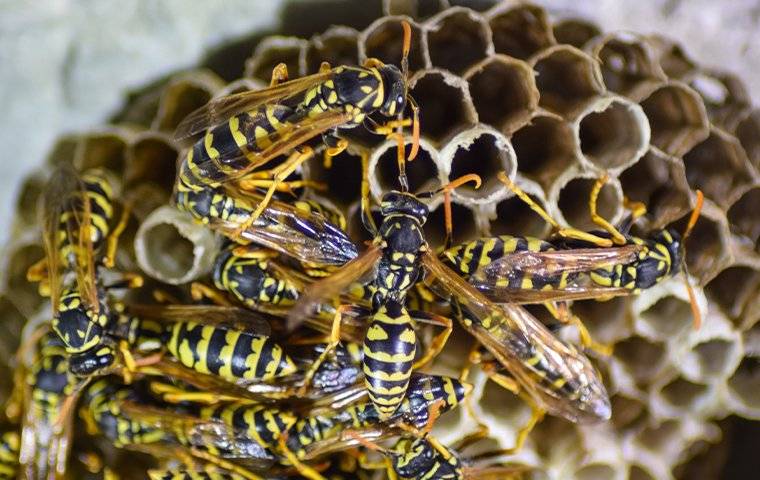 What Hornets And Wasps Are in Chicago? What Are the Dangers?
Bald-faced hornets and paper wasps are two species that are dominant in the city. The narrow 0.75 of an inch long bodies of bald-faced hornets are black with white markings. In a lot of cases, they aren't placed in the subcategory of "hornet" because of their close relation to yellow jackets and paper wasps. The aerial cocoons they create are enclosed and gray. You're bound to see them dangling from trees, roof eaves, poles, and similar. Beware of their attacks; they do so in volume and can inject large amounts of venom.
Yellow blots adorn the 1 inch long brown bodies of paper wasps. Having an elongated and slim figure is what separates them from comparable bugs. Just like bald-faced hornets, they will start their nests around sheltered spaces. Structural gaps, door frames, and window sills are examples. Seeing one is verification of an infestation.
Foundation voids and open doors or windows are typical entry points for paper wasps. To form a cocoon, they will set together plant material with their saliva. Once it's no longer moist, it will appear as thick paper. Viewing the interiors will not be possible. In terms of shape, it will be akin to an umbrella. This has led to their alternate name of "umbrella wasps." How they go about building their homes is unique against other wasps.
Additional important facts about hornets and wasps are:
The stability of the ecosystem is partly maintained by their feeding and pollination systems.
Pain, skin inflammation, and allergic responses can occur with their stings. Since they can strike many times, the chances of a medical emergency are great.
There are four stages to their lifecycle: egg, larva, pupa, and adult.
How Can Chicago Hornets And Wasps Be Prevented?
While manipulating nature can't be done, you can decide what happens on your land. Performing these exterior duties will help you keep hornets and wasps at bay:
Mow the grass and trim the greenery on a routine basis. Cover ground holes and get rid of organic debris on the lawn.
Avoid overplanting flowers.
Use citronella, eucalyptus, and other repellent plants for gardens.
Distance greenery from the property by two feet.
Wash out gutters and vents regularly.
Use secure containers for garbage.
Make sure decks and roof eaves remain neat.
Don't leave food on patios and porches.
Contact Aerex Pest Control if you have critters hornets and wasps eat.
What Can Aerex Pest Control Do About Chicago Hornets And Wasps?
It's never a good idea to go after hornets and wasps by yourself with retail products. You could anger them to where they'll eagerly sting you. Don't touch nests either, no matter how empty they seem. If a lone bug comes flying out, the consequences might be dire. Look to us at Aerex Pest Control. Our expert technicians will use safe and advanced methods, like perimeter barrier and exterior treatments. Call today for a free quote!