Reliable Pest Control Solutions In Chicago, Illinois
Located on Lake Michigan, the city of Chicago, IL, is a vibrant place with so much to do. We have amazing architecture, beautiful beaches, and blue water views. The culture of city life offers an exciting energy that can't be beat. However, there is some excitement that you should avoid. Pest infestations are a real threat to Chicago property owners that can have detrimental effects on your health, safety, and that of everyone else on the premises. That's why professional pest protection is so important.
Welcome to Aerex Pest Control, Chicago's go-to source for dependable pest control solutions. Since 1948, it has been our goal to provide safe, effective pest control solutions to residential, commercial, and industrial properties throughout the area. We're a family owned and operated company that works hard to bring our valued customers the absolute best. No matter your pest control problems, we've got the pest control solutions you need!
Home Pest Control In Chicago, IL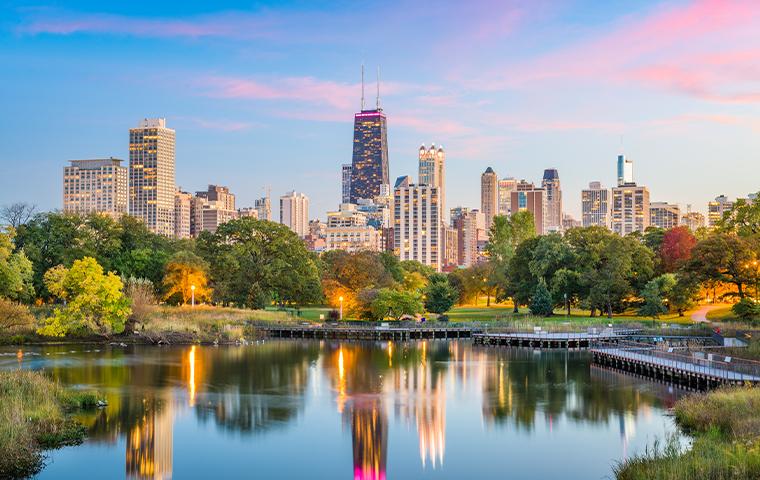 If you own a home here in Chicago, a household pest infestation is a real threat, and it can cause a lot of issues for your home and everyone inside. That's why professional pest solutions are the best way to go. We offer residential pest control services to over 7,000 homeowners in the area.
Our team provides year-round pest coverage from a long list of common household intruders, some of which include ants, bed bugs, cockroaches, stinging insects, mosquitoes, rodents, box elder bugs, ticks, fleas, occasional invaders, and stink bugs. Our pest technicians are state licensed and certified by the IDPA (Illinois Department of Public Health) and trained by our on-staff, professional entomologist.
After a thorough inspection, we get right to work. Our team will customize a solution to cater to your needs because your satisfaction comes first. A large part of our business comes from customer referrals, so we take your satisfaction very seriously. Reach out to us today for a complimentary, over-the-phone home estimate, and we'll get the ball rolling.
Commercial Pest Control In Chicago, IL
The commercial competition in Chicago is fierce, which means, as a business owner, you need to do everything you can to keep up with your competitors. If pests infest your business, not only do they destroy supplies and profits, but they affect employee morale and compromise your customer's trust. To protect your reputation and everyone in the facility, it's a good idea to get professional pest control services.
Aerex Pest Control provides complete commercial pest solutions to a variety of properties. We specialize in pest control for property management, and we also work with retail stores, restaurants, bars, office buildings, health facilities, industrial manufacturing properties, warehouses, and storage facilities. We service over 1,250 businesses in the area, and we're here to help you. Call us today, and we'll get started.
Effective Carpenter Ant Treatment In Chicago, IL
Carpenter ants can do a lot of damage to the structure of your Chicago home or business. Like termites, they destroy wood throughout our homes and businesses and use it to construct their nests. The difference is that carpenter ants don't eat the wood. They can be detrimental to your property's structural integrity, which is why it's important to take preventative measures.
You can do a variety of things, like seal up and cracks or crevices along the foundation, doors, windows, and floors. You should also remove any damp wood around the house, inside and outside. Reduce sources of excess moisture throughout your property, and block off any openings around utility pipes and wires.
These preventative measures can help, but for a more effective carpenter ant control and prevention source, call in professional pest control services. Here at Aerex Pest Control, we provide complete carpenter ant treatments that Chicago property owners can count on year-round. Call us today to learn more.
Chicago's Guide On How To Get Rid Of Bed Bugs
Bed bugs are disturbing, nocturnal pests that feed on our blood while we're asleep. Because they're only active at night, it makes it very hard to catch them in the act. That's why bed bug infestations can go undetected for long periods.
If you want to be proactive in your efforts to avoid bed bugs, try the following preventative methods:
Eliminate clutter around the house.
Inspect secondhand items before bringing them inside.
Steam clean curtains, upholstery, and other fabrics.
Use protective box spring and mattress encasements.
Wash and dry all linens and clothing on high heat.
While these tips provide a good place to start, the truth is that none of them are as reliable as ongoing services from the pest professionals. The team at Aerex Pest Control offers extensive bed bug treatments that Chicago home and business owners can trust. Get in touch with us today to discuss your bed bug control needs.
Request Your Free Quote
Complete the form below to schedule your no obligation inspection.