Bed bugs are frustrating pests. It is hard to keep them out of our homes and difficult to get control of them when they find their way inside. The main reason they're so difficult to deal with is that most Chicago residents don't know all that much about them. Today, we'll share with you exactly what you need to know so that you can detect bed bugs early, prevent them from hitching a ride into your home, and deal with them if these bugs get past your defenses. Consider this short article Bed Bug 101. It is everything you need to know to prevent them and how to get rid of bed bugs effectively when you uncover them in your home. If you want professional advice and an explanation of services available in Chicago, feel free to contact us directly. We're available by phone, text, or email, and our friendly service technicians look forward to helping you. We offer advanced bed bug pest control in Chicago. We'll guide you toward an effective solution to your pest problem. With that said, let's look at the essential facts you need to know in order to stop bed bugs in their tracks.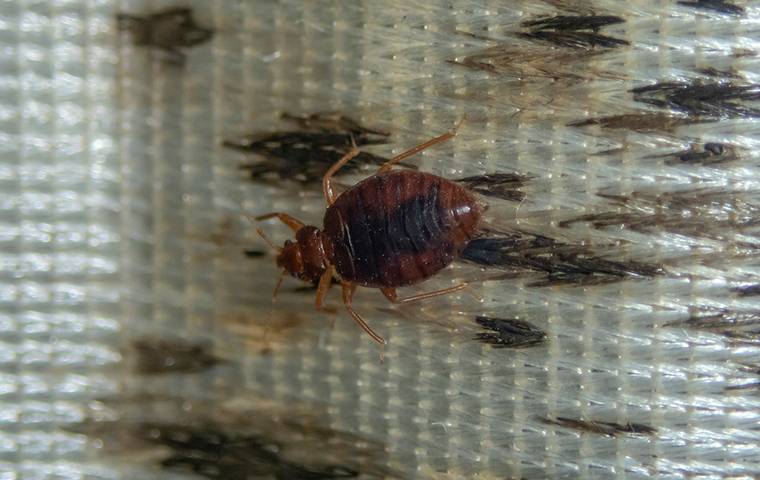 Bed Bug Detection: How To Spot And Confirm An Infestation
It is essential to know how to tell bed bugs are hiding in the shadows. When away from home, it can alert you to the danger of bringing an infestation home with you. When you catch them in your home, you may avoid a lot of misery if you find them early. Knowing how to detect bed bugs can also help you confirm that you have bed bugs and not some other issue. It is not uncommon for Chicago residents to think they have bed bugs when they actually don't. The secret to detecting bed bugs is knowing where they like to hide. So, where do bed bugs hide? Here are the most common places bed bugs are found. When looking for bed bugs, remember to consider all stages of the life cycle and other visible signs. Look for adult bed bugs, nymphs, eggs, shed skins, black feces, and brown stains.
In Your Bed: Use a flashlight and a butter knife to thoroughly check your bed. Look between the mattress and the box spring. Check under labels and around grommets. Drag a butter knife along the seams and check inside the cavity of your box spring. Look in every gap and recess of your bed frame.
In Your Furniture: Bed bugs don't just hide in beds. They're also found in other furniture items, such as couches, upholstered chairs, pianos, and more. You'll need to probe these using a flashlight to find evidence of an infestation.
In Electronics: Bed bugs also hide inside alarm clocks, computers, and other electronic devices. Any objects near a bed, couch, or chair can have bed bugs inside.
In Your Bags: Bed bugs are often found and travel inside pocketbooks, bookbags, duffel bags, luggage, briefcases, and other objects used to carry things. If you find bed bugs in these places, you may stop an infestation before it starts.
In The Structure Of Your Home: Bed bugs hide under carpet edges, behind baseboards, inside outlets, and other hiding places in the structure of a home. Once they get into these places, they're extremely hard to eradicate.
If you look for bed bugs and don't find them, that is good news! That means you can take steps to prevent a bed bug infestation. Let's turn our attention to bed bug prevention. While it isn't easy to keep bed bugs out of your home, diligent effort can significantly reduce the risk of getting an infestation.
Little Hitchhikers: How Bed Bugs Find Their Way Inside
Bed bugs aren't like most other pests. They don't live in your yard, and they don't come into your home through cracks in your exterior walls. So, how do you get bed bugs in your house? There are a few ways. If you understand how bed bugs spread, you have a better chance of stopping them. Some of the ways bed bugs are spread into homes include the following:
Work: Bed bugs are found in many work environments, even where you wouldn't expect them. All they need is a place to hide and an opportunity to transfer from one worker to another.
School: Bed bugs are often carried to school by students. When items of multiple students are stored together, bed bugs can be transferred.
Travel: Bed bugs are often picked up at hotels, motels, and even 5-star resorts. But you can also get bed bugs from many public spaces you wouldn't expect, like a seat in a movie theater.
Used Items: Bed bugs get into furniture and electronics. If you buy a used item, you could pick up bed bugs by accident.
Homes: The most common way bed bugs spread is from home to home. They can do this by hitchhiking or going through walls from apartment to apartment.
Now you know how you can get bed bugs, what can you do to stop them? There are a few methods that can help you keep bed bugs out. Share these with your family and friends to increase your protection (and theirs).
Do a quick inspection when staying overnight away from home. Look for black feces, brown stains, white eggs, shed skins, bed bug nymphs, and adult bed bugs.
Keep your luggage in your vehicle or in the bathroom during your bed bug inspection.
Store luggage off the floor and use a luggage rack instead of the bed when opening your bags.
Consider putting your bags in sealed plastic bags or spray the exterior with a lavender scent to mask the scent of the items inside and keep bed bugs away.
Store laundry items in a sealed bag.
Wash and dry all clothing upon returning home. Soapy water dehydrates bed bugs and erodes their exoskeletons. Hot temperatures eradicate bed bugs and their eggs.
At school or work, avoid storing your items near those of others to prevent bed bugs from transferring to your belongings. Often, people don't know they have bed bugs before they have spread them to others by accident.
Always check used items before bringing them into your home.
Keep track of what is happening in your apartment building. For example, watch for telltale signs of bed bug bites on neighbors. And remember, these pests don't target dirty people or dirty homes; they spread passively to wherever they can find people to bite. Together, you and your neighbors can work to prevent these pests from spreading.
If bed bugs find a way past your defenses, it is essential to know what to expect from them inside your home. While every bed bug infestation is somewhat different, there are a few ways they're all the same. Let's take a look at what bed bugs do inside your home.
Bed Bug Problems: They Aren't Just Going To Go Away
There are many pests that get into homes and go away on their own. The reason they disappear is that they can't find an appropriate habitat inside a home. Unfortunately, your home is the perfect environment for bed bugs. It is such a good environment that bed bugs are almost exclusively indoor pests. The reason is that they have a preference for human blood and must establish themselves near their food source.
In your home, you can expect bed bugs to stay permanently. You can also expect them to grow a population. With each new bug that hatches, you'll have three times the number of bites because bed bugs typically bite three times when they feed. So, it is a good idea to contact local pest control for bed bugs when you first detect these pests in your home. They aren't going away on their own.
Don't Let The Bed Bugs Bite: Contact The Pros Right Away
Professional bed bug control in Chicago is the best way to deal with bed bugs. These insects are resilient and elusive. Residents describe bed bug control as putting out a brush fire. As soon as you think you've gotten rid of them, they pop up somewhere else. You can save yourself a lot of frustration and misery by contacting Aerex Pest Control early. Doing so can help prevent bed bugs from spreading to the homes of friends and family and returning after you've paid for a professional bed bug treatment. We help you analyze your bed bug control issue and provide effective control options and advice to help you prevent future infestations after your treatments are done. Our service team has extensive experience addressing these difficult pests, and we apply industry-leading control solutions to arrest bed bug infestations.
For help with a bed bug problem in Chicago, reach out to Aerex Pest Control through our contact page. It is an easy way to tell us about your problem, get feedback, and make the best decision to get rid of these irritating bugs. We listen closely and work quickly and effectively to eliminate bed bugs. You don't have to let the bed bugs bite you. Help is here. Connect with us today.