Customized Pest Control Services In Hinsdale, IL
Hinsdale is a small suburb located 20 miles west of Chicago. As part of the sprawling metropolitan area that spans multiple counties, there are as many different kinds of neighborhoods in our neck of the woods. From colonial-style villages like Hinsdale to newly developed neighborhoods like Clarendon Hills, there is no one-size-fits-all approach to servicing houses and businesses. That's why it's important to identify your local pest experts, who customize their approach to the unique neighborhood you live in, Aerex Pest Control.
Home Pest Control In Hinsdale, IL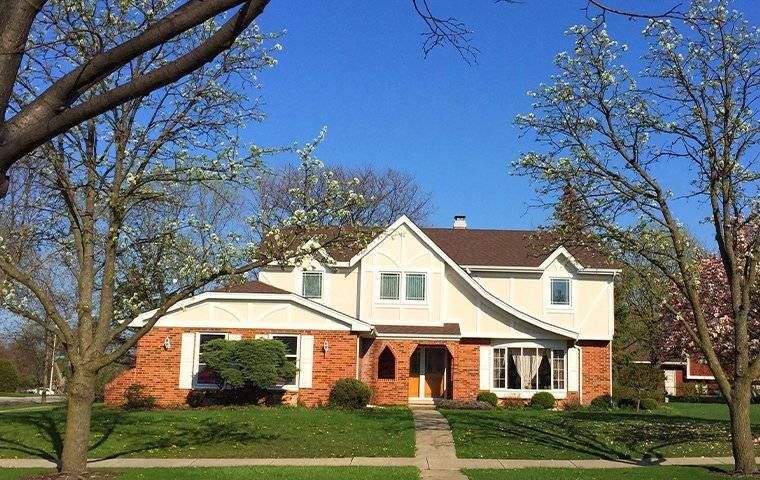 Keeping pests out of your home can feel impossible. Tiny invaders that are attracted by numerous common items and activities around your home. Even clean homes can wind up with an infestation. That's why it's important to take preventative steps around your property long before a pest problem is apparent. These steps can include things like proper food storage and deep cleaning, as well as proper moisture control. But the single best thing you can do to protect your home from pests is to get guidance from experts. At Aerex Pest Control, our effective services follow these steps:
Inspection: First things first, we get to know your unique property. No two homes are exactly alike, which means no two properties have the same risks or factors to consider when it comes to pest control.
Treatment: From treatments of your exterior walls to perimeter treatments, our safe and effective methods are the best way to keep pests from invading in the first place.
Follow-Up: One of the things that makes Aerex exceptional is the fact that we don't just treat your home once and then move on. We check back in a few weeks later and make sure you're still satisfied.
Commercial Pest Control In Hinsdale, IL
While homes are certainly frequent targets for invasive pests, businesses can be even more attractive to all kinds of nasty critters. With the food and clutter that's commonly found in every kind of commercial property, businesses have all the same attracting factors as homes do -- and more. That's why the smart move to protect your Hinsdale business from pest problems is a partnership with Aerex Pest Control. Here are some of the ways we can help:
Inspection: The first reason to trust the pros is that our eyes can catch what untrained ones might miss. Only experts know how to spot the tiny details that indicate the early signs of an infestation.
Identification: The other important thing that experts can do is properly identify a pest population. Methods that work on one pest may not work on a similar species, so proper identification is crucial.
Consultation: Once we've got the findings from our thorough inspection, we talk you through the realities around your business. This lets you in on the process, making sure we tailor services to your wants and needs.
Treatments: That leads us to the important stuff, the actual treatment methods themselves. Our effective services not only eliminate pests but also prevent future infestations.
What Hinsdale Residents Ought To Know About Bed Bug Control
The truly nasty pests aren't the ones that crawl around your countertops, they're the ones that hide during the day and feed on you while you sleep. We're talking about bed bugs, and these parasitic pests are far more common than you might think. For one, bed bugs don't just contaminate beds themselves. Instead, these tiny bugs can be found in all kinds of clothing, furniture, and containers.
Bed bugs are often introduced directly to homes and businesses via contaminated items. Used items and garments that spend a long time sitting in storage can all already be contaminated when they are purchased or brought into a structure. Bed bugs are also experts at hitching rides on unsuspecting people and animals, clinging to hair, clothing, and belongings until these carriers come into contact with other people or properties. This is how bed bug hotspots, like hotels, hospitals, and transit centers act as areas where bed bugs can spread from one property to another. Simply put, bed bugs are a lot easier to track into your home than you might think, which is why you should call professionals to inspect your property for signs right away.
How Do I Get Rid Of These Ants On My Hinsdale Property?
Ants are another pest that it can seem impossible to fully prevent. These tiny invaders are good at finding tiny entrances to your property that give them a foothold to contaminate your food sources and just generally annoy you. That's why you should act on the factors that attract ants long before these pests find a way in. With their receptive antennae, ants can detect the faintest traces of food from far away, so proper food storage and regular deep cleaning of your property will reduce this common attractant.
But what about when ants are already there? Unfortunately, removing an ant colony isn't as simple as just laying down some bait and waiting for the problem to go away. A treatment that works on one ant population may not work on others, and ant colonies keep the reproductive members of their population -- the queens -- hidden far away from human activity. That means store-bought products aren't likely to eliminate the root of the problem. Rather than just kicking the can down the road, turn immediately to the pest experts who can effectively get rid of an ant problem.
At Aerex Pest Control, we not only help you with removal, but we can also give you tips and treatments to protect you from future ant infestations.
Request Your Free Quote
Complete the form below to schedule your no obligation inspection.