Comprehensive Pest Solutions In Orland Park, Illinois
The village of Orland Park, IL, is a beautiful place to put down roots. Located just 21 miles from Chicago, our community offers both easy access to city life, as well as the charm of a small town. It's an ideal place to live, work, and play. Local pest populations agree with the sentiment. These intruders are a year-round presence here in Orland Park, meaning local homes and businesses are vulnerable to the nightmare of a pest infestation. In order to protect yourself, it's important to consider your pest control needs.
Here at Aerex Pest Control, we work hard to provide the best residential, commercial, and industrial pest solutions in the Chicago metro area. Since 1948, we've been servicing properties throughout Cook and Will Counties and the surrounding areas, providing year-round coverage from a long list of common area pests. Some of the intruders we deal with include ants, bed bugs, cockroaches, stinging insects, mosquitoes, rodents, box elder bugs, ticks, fleas, occasional invaders, and stink bugs. Call the Orland Park pest experts today to address your pest control needs.
Home Pest Control In Orland Park, IL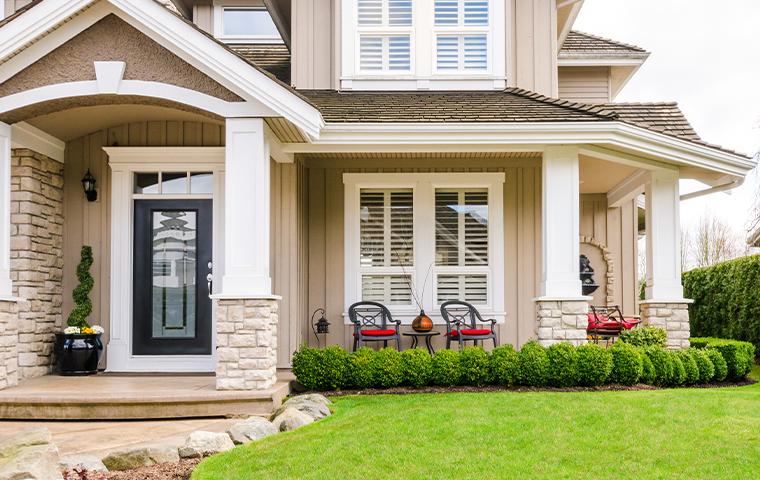 Being a homeowner involves a lot of maintenance, so the last thing you need to deal with is pest activity. Household infestations pose a long list of health and safety threats to you and your loved ones, which is why we highly recommend ongoing services from a team of experienced pest professionals.
The team at Aerex Pest Control is proud to service over 7,000 local homes with comprehensive home pest control in Orland Park. Most of our business is through referrals, so our customer reviews speak for themselves.
We use safe, effective pest control procedures using EPA registered pest products to bring you the lasting results you and your family deserve. We're so confident in our results that we offer a 20-day guarantee and free re-service on paying visits.
Reach out to us today to get your free, over-the-phone home estimate, and we'll get your inspection scheduled right away.
Commercial Pest Control In Orland Park, IL
The only 100% effective way to guard your Orland Park business against the nightmare of a pest infestation is to rely on the pros at Aerex Pest Control. We offer trusted commercial pest solutions in Orland Park to over 1,250 companies in the area, specializing in pest control for property management. We also service a variety of other facilities, such as retail, restaurants, bars, office buildings, health facilities, industrial manufacturing properties, warehouses, and storage facilities.
Our Aerex Guarantee service package addresses existing pest problems and uses preventative treatment measures to keep your facility protected all year long. After completing a customized treatment strategy, we schedule follow-up visits monthly or bi-monthly to help maintain pest-free conditions throughout the premises moving forward. Get in touch with us to discuss your commercial pest control needs today.
What Orland Park, IL Homeowners Ought To Know About Rodents
Rodents are disconcerting intruders that can cause many issues if they get into your Orland Park home. These small intruders are very unsanitary, meaning they pretty much contaminate every surface of your home, including food sources and the structure itself.
A household rodent infestation threatens your health and that of your family. It can lead to a long list of adverse health conditions, some of which include hantavirus, LCM (lymphocytic choriomeningitis), rabies, rat-bite fever, salmonella, tularemia, and many others.
It's also important to consider that rodents cause a lot of destruction to the structure of your home. They gnaw away at insulation, weaken the construction, and endanger your loved ones. If you want to protect your home and those inside it, the smartest thing to do is to call in the professionals. Aerex Pest Control guarantees the complete extermination of all rodent activity, and we'll prevent them from coming back. Call us today.
How To Spot & Stop German Cockroaches In Your Orland Park, IL Home
German cockroaches are a year-round presence here in Orland Park, and as a local homeowner, you should know how to detect and prevent these intruders from getting into your house. To start, you should know that German cockroaches love to invade homes, looking for access to food, water, and shelter. They rummage around the garbage and breed in dark, damp spaces like kitchens and bathrooms.
If you want to be preventative in your efforts to minimize your chances of a German roach infestation, there are some tips to keep in mind. Clean up any messes promptly, as cockroaches are attracted to food spills, residue, and waste not properly disposed of. It's also important to address moisture sources because cockroaches gravitate to moisture; this includes repairing leaks. The best way to deal with any cockroach activity is to count on a team of pest experts.
Contact Aerex Pest Control for all of your roach control and prevention needs.