What do you do when you get spam calls or when someone pesters you with messages? You block them. If you are in a group text and your phone is buzzing constantly with chatter from the group, you mute the conversation. If you don't want people on your property, you put up a "No Trespassing" sign or a locked fence. In most cases, we have ways to keep unwanted spam calls, annoying people, or potential trouble-makers away, but how can we keep rodents out of our homes?
Rodents don't use phones or send text messages, so blocking and muting won't stop them; they also don't read, so signs will not keep rodents out of our homes. While a fence may help, rodents can squeeze through nickel-sized holes, so if there are gaps in the fencing, they will find a way into our homes. While it may seem impossible to keep rodents out of your Chicago home, you can keep them out with the help of Chicago pest control services from Aerex Pest Control.
Aerex Pest Control is a family-owned, Chicago-based company that has removed rodents since 1948. Leading American entomologist Dr. George Rotramel trains our service technicians. In addition to their extensive training, our service technicians are certified through the Illinois Department of Public Health. We are fully bonded and carry property damage and personal liability insurance.
You probably found this article because rodents are inside your Chicago home, and you want them out. Not only do you want the current infestation to end, but you want to ensure rodents never invade your home again. If that describes your desire, please keep reading to learn how to regain control of your home from rodents.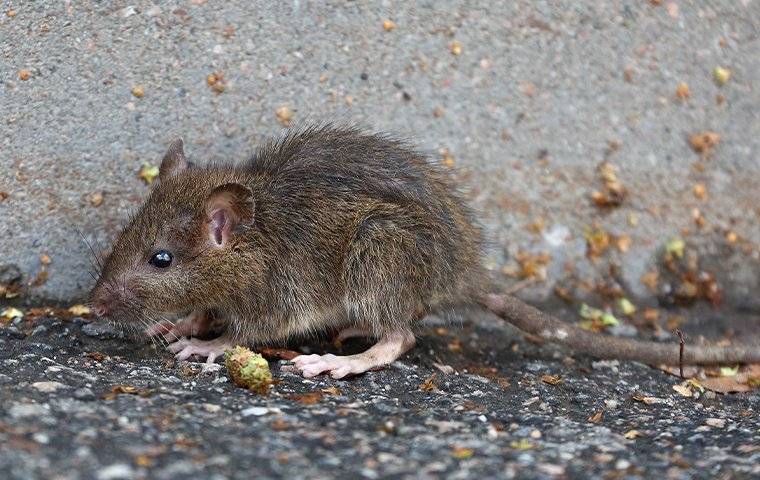 Common Rodent Species: Identify Rats, Mice, And Other Intruders
What is the difference between rodents, wildlife, and other warm-blooded mammals? While they share some of the same features, the main difference is a pair of ever-growing incisor teeth. These teeth have a razor-sharp edge that rodents use to cut through wood, thin metals, vinyl, plastic, glass, roots, and even concrete. Because they grow continually, rodents must trim their incisor teeth (which also sharpens them) by gnawing on available objects.
From a pest control perspective, rodents generally consist of animals with growing incisor teeth that live alongside humans. These types of rodents are known as commensal rodents.
Rodents in the Chicago area that cause problems for owners include the following:
Norway rats
House mice
Voles
Some animals, like beavers, have growing incisor teeth but avoid humans, which puts them in the wildlife category. Of course, we don't have a problem with beavers in Chicagoland.
What is the difference between Norway rats and the mice species that invade Chicago homes? We will discuss each of these animals so you can determine what rodents you witness running out from underneath the couch or behind the kitchen cabinets.
Norway rats have a 7 to 9 1/2-inch long brown body with black interspersed hairs and a gray or white belly. In addition to their long bodies, these rodents have a 6 to 8-inch scaly tail, blunt muzzle, and small ears and eyes. Norway rats live outside in garbage and woodpiles and underneath concrete slabs. When harsh weather drives them into homes, they gravitate to the basement and other lower floors.
Although they have a long tail, furry body, two ears, and eyes, house mice are smaller than Norway rats. These four-legged creatures have 2 1/2 to 3 3/4-inch dusty grey round bodies and a cream-colored underside. They have a 2 3/4 to 4-inch tail and large ears. Although they can survive outdoors, these fast-breeding mice prefer to live inside human-made structures, where they create nests from paper, insulation, cotton, fabrics, and other materials in dark, secluded areas.
Field mice, also known as voles, have a similar shape and size as a house mouse. Unlike house mice, voles do not invade homes but live in the yard, where they feed on grub. Unlike moles that create underground tunnels, voles construct trenches on the surface.
To remove rodents from your Chicago home, you need rodent control from Aerex Pest Control. Our trained service technicians can identify the types of rodents invading your home and property so that we can create the best strategy for their removal based on their habits and behaviors.
Rodent Dangers: Health Risks And Property Damage
Rodents forage in sewers, drains, trash piles, compost heaps, and animal feces. These unsanitary areas are Petri dishes that enable bacteria, viruses, and parasitic worms to grow and flourish. When rats and mice move through these polluted areas, disease-causing organisms stick to their oily fur. Rodents are active at night, but they do not have good vision. Thus, when they travel through a Chicago house, they bump into items, leave pathogen-filled grease marks, and transfer the organisms.
Furthermore, as they eat decaying plants and organic material, pathogens on the surface of infested items enter their bodies. Later, when the diseased rodents move through your Chicago home, they expel the pathogens in their urine, feces, and saliva. Rats and mice spread leptospirosis, tularemia, and salmonellosis. In addition to these diseases, Norway rats spread rat-bite fever, jaundice, cowpox virus, and trichinosis. House mice also cause the viral infection lymphocytic choriomeningitis (LCM). Symptoms of these diseases range from flu-like to severe illness requiring medical attention.
Rodents are vehicles for fleas and ticks that live in the unsanitary areas where rats and mice forage. The fleas and ticks jump or quest on the passing rodents and embed themselves into their fur. When rodents invade Chicago homes, they often bring their traveling companions into the house, where they disembark and hide in carpeting, bedding, and clothing. When they sense the CO2, vibrations, and heat from a host, they attach themselves and draw a blood meal while injecting their infected saliva. These insects can spread some of the same diseases plus additional viral, bacterial, and parasitic worm infections.
Rodents urinate and defecate as they travel through homes where they pollute cooking and eating surfaces, utensils, exposed foods, and items inside cabinets and pantries. Norway rats leave olive-pit-sized droppings with blunt ends; mice deposit rod-shaped 1/8 to 1/4-inch-long pointed droppings. When rodent fecal matter dries, particles flake away, become airborne, and circulate through the home. Individuals inhaling the floating feces may experience coughing, itchy eyes, running nose, and other allergic reactions; in some cases, the feces may trigger asthma attacks.
Because rodents must gnaw to shorten their ever-growing teeth, they chew on furniture, wiring, wood, metal and vinyl siding, glass, and even concrete. A rodent infestation can cause house fires, appliance failures, loss of internet connectivity, and furniture damage. Field mice, also known as voles, damage trees and plants in the yard by chewing through roots and gnawing away tree bark. Their above-ground highways also create tripping and fall hazards in the yard.
Aerex Pest Control protects your family from damage and diseases caused by rodents.
Rodent-Proof Your Home: Essential Steps To Keep Unwanted Guests Away
Once Aerex Pest Control removes rodents from your Chicago home, you never want them to return. Although we can eradicate the rodents from your house, no one can remove all the rodents in Chicago. How do you deter rodents from invading in the future?
These rodent prevention tips will discourage rodents from returning to your Chicago home:
Remove debris and junk from the property.
Provide proper drainage to gutters, ditches, and low-lying areas.
Prune tree branches and shrubs away from the house.
Pick up rotting fruit and animal feces in the yard.
Cover outdoor and indoor garbage containers.
Elevate and move wood piles 20 feet from the structure.
Place wire mesh screens on the crawl space and attic vent openings.
Seal holes in the foundation, roofline, and between incoming pipes and wires.
Install door sweeps on all exterior doors.
Repair holes in window and door screens.
Vacuum the house regularly.
We can provide additional suggestions when a service technician from Aerex Pest Control inspects your Chicago home for common rodents.
Professional Rodent Control: Why Expertise Matters
Upon seeing a rodent or two, it is natural to go to the local hardware store and purchase a couple of traps. The snap of a snare brings instant gratification and makes you feel like you are accomplishing your goal. However, a few random mousetraps seldom work because, for each rodent, ten more are likely hidden in wall voids, behind cabinets, and in dark corners of the crawlspace, garage, or basement.
The best way to remove rodents is to secure rodent control services in Chicago from Aerex Pest Control. Our highly-trained service technicians will inspect your property to identify the rodent species, entry points, attractants, and hot spots. We know the signs of a rodent infestation and how to interpret them.
We will develop a strategic plan using our 70-plus years of experience to target the specific species invading your home using a combination of tools. Once we eliminate the rodent problem, our biannual treatments ensure they stay away. Contact us today for a free quote and to learn more about our residential and commercial pest control services in Chicago.