It is a nightmare to find cockroaches or evidence of a cockroach infestation in your Chicago restaurant. What's worse, when you see roaches, it is a warning sign that there are thousands more that you don't see, unless the cockroach species is diurnal. Cockroach identification is essential to determining the level of threat and what you should do about those roaches. Is it time to contact Chicago pest control or will you be able to deal with those roaches yourself? These are questions we're going to help you find the answers to today. Join us as we look at common cockroach species that threaten Chicago restaurants, health concerns associated with them, six steps to having a cockroach-free restaurant, and how a commercial pest control provider can help. If you are currently dealing with an urgent roach control issue, keep in mind that you can navigate to our contact page for immediate assistance. The service team here at Aerex Pest Control is always available the help you solve pest problems.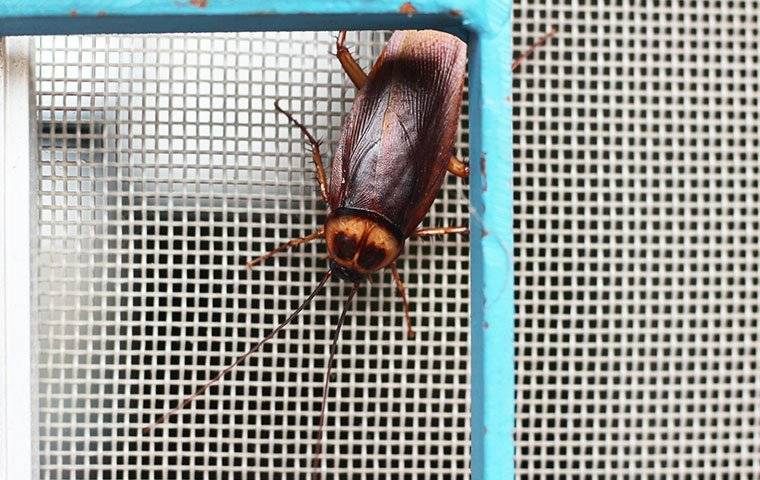 What To Do About Roaches In My Restaurant
The first step is to identify the cockroach species. Some cockroaches are much worse than others. If you see a tan cockroach with a dark-colored equal sign on its back, that's a German cockroach. It is the worst of all roach pests. You'll need to immediately reach out to Aerex Pest Control for assistance. You're going to have a hard time getting control of German cockroaches. But there are other cockroach species that are easier to address.
Wood Roaches: There are several cockroach species that fall under this name. Wood roaches are nuisance pests. You can tell them apart from other pest roaches by the fact that you'll actually see them. Wood roaches don't mind being out in the light and they tend to be diurnal. Their attraction to light may be why you're seeing them in your restaurant. They often fly toward open doors in the evening. That ability to fly is another way you can distinguish these roaches from the others. You should not find it surprising that wood roaches are attracted to businesses that have stacked wood, certain mulches, wooden flower borders, and other sources of wood.
Smoky Brown Cockroaches: These cockroaches are another nuisance roach species, but they are slightly worse than wood roaches. The diet of a wood roach is mostly composed of decomposing timbers, leaves, and plant matter. They'll also dine on carrion, but it is not a preference. Smoky brown cockroaches are known to feed on feces, which exposes them to harmful organisms. The good news is that they prefer to be outside. You can have success keeping these roaches out if you seal exterior entry points and refrain from leaving doors open.
American Cockroaches: These are the largest pest roaches in Chicago. You can distinguish them by their size and the unique yellowish figure-eight marking on their backs. While American cockroaches prefer to be outside, they readily get into structures and can stay permanently. You may have some success getting control of these roaches by keeping things clean and dry. Keep in mind that sanitation will not only help to deter American cockroaches but will also work to reduce the health risks associated with them.
Oriental Cockroaches: These are the black cockroaches. They are the dirtiest of all the cockroaches on our list. While this makes them a serious health concern, you'll have more success controlling them with sanitation than any other pest roach. They also have a rather high moisture requirement. A dry restaurant is resistant to Oriental cockroach infestation.
Now that you've been introduced. Let's take a look at a few reasons you should not allow roaches to roam around in your Chicago area eatery.
The Problems Roaches Can Cause In Your Chicago Restaurant
Cockroaches are unhygienic insects. The pest roaches that are attracted to unsanitary conditions will be a risk to human health, and that makes them a risk to your business. But, even wood roaches can put your business at risk. Most people don't know how to tell wood roaches from other cockroaches, and they may take to social media and spread rumors that it is not safe to eat at your establishment, even though it is false. You may also get flagged for a health inspection, which is inconvenient at best.
If you have German, American, or Oriental cockroaches, you have a serious matter on your hands. These roaches are implicated in the spread of more than thirty-three kinds of bacteria, including salmonella and E. Coli. They have the ability to spread more than seven human pathogens and six parasitic worms. You should have zero tolerance for these dirty insects in your restaurant. Let's take a look at how to get rid of cockroaches naturally and where commercial pest control fits into the picture.
Six Tips To Keeping Your Restaurant Pest Free
Cockroaches are hard to control. There is just no getting around it. But you have to do something about those roaches or they will cause trouble. There is no getting around that either. It is a lot of work to keep roaches out and it takes a team effort. If you apply these six tips, you will have a restaurant free of cockroaches and other common restaurant pests that can damage your reputation and lead you to close your doors.
Exterior trash and yard work. Food items and debris are thrown out routinely These decay and the scent of decay attracts cockroaches. Make sure your trash is being removed routinely and that receptacles and dumpsters don't have a strong odor. Cockroaches are also attracted to leaf litter, dead branches, stacked wood, and other exterior hiding places. Keep your exterior free of organic debris and man-made objects that create clutter.
Clean. Proper sanitation removes the scent that can bring cockroaches into your restaurant. These insects are drawn to the smell of decaying organic matter much more than the smell of food cooking. Once inside, cockroaches will feed on food debris and organic matter in your drains, climb into mop buckets, explore bathrooms, and more. Sanitation is essential for management. Address grease and oil. These are a preference for cockroaches. Clean the sides of ovens and other areas where grease or oil may run down. Clean tight spaces where juices and debris can be found. Roaches are thigmotactic, and this draws them into tight spaces.
Protect food. Cockroaches can get into stored food items. They have the ability to chew through cardboard and paper packaging. Make sure all of the food in your kitchen is protected at night when cockroaches are active.
Address moisture. Many cockroach species are motivated by moist conditions both inside and outside. On the outside of your business, make sure gutters are clear of obstructions and that your landscaping is free of leaves and other organic debris that can trap moisture. On the inside of your business, fix leaky faucets, dry up water before closing for the night, and clean up spills.
Remove hiding places. Cockroaches love clutter. The more clutter you have, the happier cockroaches are going to be. They are particularly attracted to stacks of cardboard. Roaches feed on the cellulose in paper products, just like a silverfish does. If there is food debris stuck on cardboard, or cardboard is moist, it becomes even more enticing to cockroaches.
Allow a commercial pest control service provider to guide you in setting up a service plan for your business. All of your hard work will be for nothing if cockroaches randomly enter your business. Layers of pest protection around your business and targeted control methods will give you the added protection needed.
Who can you trust to handle your commercial pest control plan, and what company is the right choice for cockroach pest control in Chicago?
Commercial Pest Control In Chicago You Can Trust
Under the guidance of leading American entomologist Dr. George Rotramel, the service team at Aerex Pest Control provides industry-leading commercial pest control solutions in the Chicago area. Our highly trained service technicians use field-tested methods to apply EPA-approved products to create a barrier around your restaurant and arrest pest activity indoors.
Outside: We apply a liquid barrier treatment all the way around your business that makes it hard for cockroaches to live near your exterior walls or to find a way to the interior of your business.
Inside: If cockroaches ever become a problem, we identify your cockroach pest and apply appropriate baits to arrest all activity. We follow up after treatment to evaluate the success of the treatment plan and make sure no roaches remain in your business.
At Aerex Pest Control, we have the experience and professionalism to help you maintain a pest-free establishment. If you have questions about cockroach control in Chicago or you'd like to learn more about commercial pest control, we'd love to speak with you. Reach out to us today and get your restaurant on track to being roach-free.