When temperatures warm up after winter, wasps start appearing around Chicago homes. When temperatures start to cool before winter, wasps appear again and attempt to find holes to hide in. You may see them each year and have no trouble for a while. But, eventually, wasps will find a way to get into trouble. One might find a way past your screens and pay you a visit inside, or perhaps one will start a nest in a window void. Most of the time, trouble begins outdoors. A wasp nest will form on the ceiling of a porch, under a window sill, in a bush, or in a ground hole. These nests present a danger in two ways. The first is the ever-present stinging hazard. The second is the results that occur when Chicago residents attempt to remove wasp nests. Join us today as we discuss the types of wasps we have here in Chicago, the sort of things they do, the trouble they cause, and natural ways to keep them from causing trouble. We'll also look at the safe way to get rid of a wasp nest. If you have questions that need immediate answers, remember that Aerex Pest Control is available to help. We provide the best wasp pest control solutions in the Chicago area. We're happy to answer questions and offer advice. Jump to our contact page for assistance.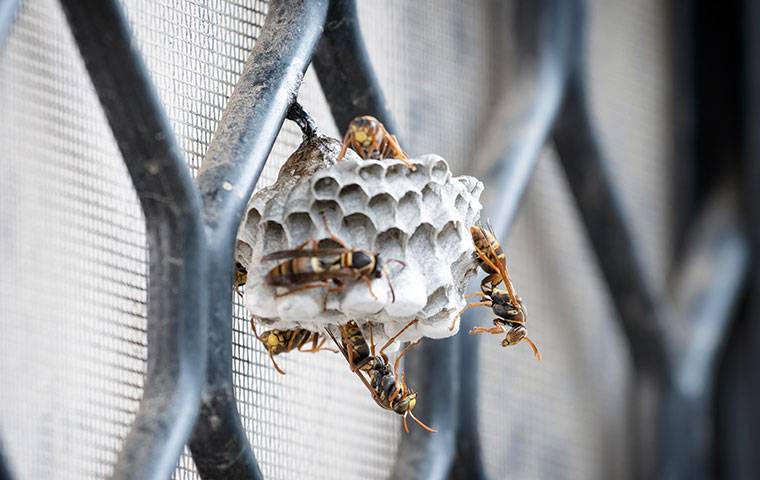 What Types Of Wasps Are There In Chicago?
We have several wasp pests in our region of the country, but we're not going to look at all of them. It is only necessary to examine a few common species and to consider the two unique types of social wasps. What are social wasps? They are wasps that work together to protect their nests. They are the wasps that are most likely to sting you. In this group, the two types are distinguished by the kind of nests they make.
Ground Nest Builders: These wasps create nests in the ground or within structural voids. They are the wasps that make a nest in your window voids, walls, eaves, and attic spaces. They're also commonly found buzzing around near the ground in your landscaping. The two species that commonly do this are yellow jackets and European wasps. These wasps are yellow and black. European wasps are about the size of paper wasps, and yellow jackets are smaller. Both are fatter than paper wasps and have less of a pinched waist. You can distinguish them from bees by considering their sleek and hairless appearance. Wasps have hairs, but they're not noticeable like the hairs of a bee.
Aerial Nest Builders: These wasps create nests in trees, shrubs, and voids underneath structures. They'll also create nests that are visible (not hidden in the ground or structural voids). It is likely you've seen one of these nests through the years. They look like large, paper eggs. The wasps that commonly create aerial nests on Chicago properties are paper wasps. They come in two colors: reddish or yellow and black. It is hard to distinguish paper wasps from European wasps unless you are able to clearly examine one and are familiar with the subtle differences. Look for the nest (or wasp entering and exiting a hole) to tell them apart.
These are the wasps you're up against in Chicago. They are social insects that can get aggressive when you get near their nests. Let's quickly look at how nests present a danger to you, your family, your friends, and your pets.
The Dangers Of A Wasp Nest On Your Property
There are several different kinds of wasps in Chicago. We covered the usual suspects. When paper wasps, yellow jackets, or European wasps enter your yard from another property, they're not a threat to you. In fact, they're a benefit. These insects hunt spiders and other unwanted pests. Social wasps eat insects and bugs as a source of protein. They also eat nectar and help with pollination. The problems begin when they decide to live on your property.
Social wasps get aggressive when their nests are disturbed. There are many ways you may disturb a nest. You may move close to one while walking around your home or other structures on your property. You may agitate a ground nest by mowing your lawn or walking around in your landscaping as you tend to it. You might aggravate wasps hiding in a wall void by pounding on wood. If you excite social wasps, they can swarm and sting. When they sting, they can grip your skin and plunge their stingers several times. They do not have barbed stingers, like bees do, so they do not lose their stingers when they sting you.
There are other subtle ways wasps create issues. It is essential to consider these as you decide what to do about preventing wasp activity on your property.
Wasps eat food sources in your trash. They can hover around your trash or establish a nest near your trash, so watch out.
Wasps crawl on sweet-smelling juice cups or soda cans. You could get a surprise when you reach for one and don't see the wasp hiding on the other side.
Wasps eat pet food. Your dog or cat could get stung while feeding from an outdoor food dish.
Ground wasps can get into your home if they find tiny gaps or holes. Once inside your walls, they can grow a nest throughout the season. The good news is they'll die off once winter arrives. But they can cause trouble before then.
Ground wasps can create a nest inside the voids found within playground equipment, which is a threat to children.
A wasp may crawl around on an outdoor seat cushion if it smells food or something sweet on the cushion. Ground wasps also crawl on outdoor furniture as they look for holes to build nests in. Keep watch. You could sit on one by accident.
All of these potential dangers provide a bit of insight into how you might prevent wasp activity and create a safer recreation environment around your home. Let's drill into these and link them to common sense wasp prevention tips.
Factors That Attract Wasps To Your Home And Yard
There are many ways to prevent wasp activity in your yard. The secret is to remove the factors that attract the wasps. We've discussed some of the attractants. Here are some specific tips to help you manage wasps around your home.
Trash: Wasps can smell your trash. A clean receptacle that is covered and secure is less likely to attract wasps to your home.
Sweet Smells: Wasps can smell sweet things and drink fluids. Sweet beverages, fermented beverages, and cups of water are all attractive to wasps. Protect your beverages, refrain from leaving them outdoors, and address conditions that create puddles in your yard (such as clogged gutters).
Pet Food: You can guard your pets in two ways: Refrain from feeding pets outdoors, or put food down during meal time and pick them up afterward. Limiting the time food stays out can reduce the risks. It is also necessary to do routine inspections in the spring to catch starter nests. If these develop into complete nests, wasps will quickly visit pet food dishes no matter how long you set them down.
Entry Points: A caulking gun or a can of expanding foam can address common entry points wasps use to enter your home. A detailed inspection and a quick patch here and there will do the trick. Also, consider critical building materials, such as weatherstripping, door sweeps, and screens.
Yard Voids: You can work to keep wasps out of playground equipment and other voids by patching them. Use expanding foam for equipment voids and dirt to fill in ground holes.
Wasp Management: You don't have to battle wasps alone. If you have a year-round pest control service plan, you'll have routine inspections and immediate service to address wasps before they present a threat in your yard. A pest control service plan will also provide protection from a long list of other common Chicago pests.
Now that you know the basics about wasp prevention, what is the best way to get rid of a wasp nest? There are many ways to address the nests you find in your yard. If you find a starter nest that looks like a gray blob, you can remove it during the day with a broom. Just make sure no wasps are crawling on it. If the nest is more than a blog, it is best to call a professional.
Call The Pros For Safe And Effective Wasp Removal
Pest control service providers use specialized knowledge, equipment, and safety gear to remove nests on your property. A home pest control professional will deal with your nest in a way that won't make the problem worse or present a threat to you, your family, or your pets. But all pest control companies are not the same. Contact Aerex Pest Control if you're in Chicago. Our licensed service technicians use materials and methods that are appropriate to the task. Navigate to our contact page or call us for wasp pest control in Chicago.